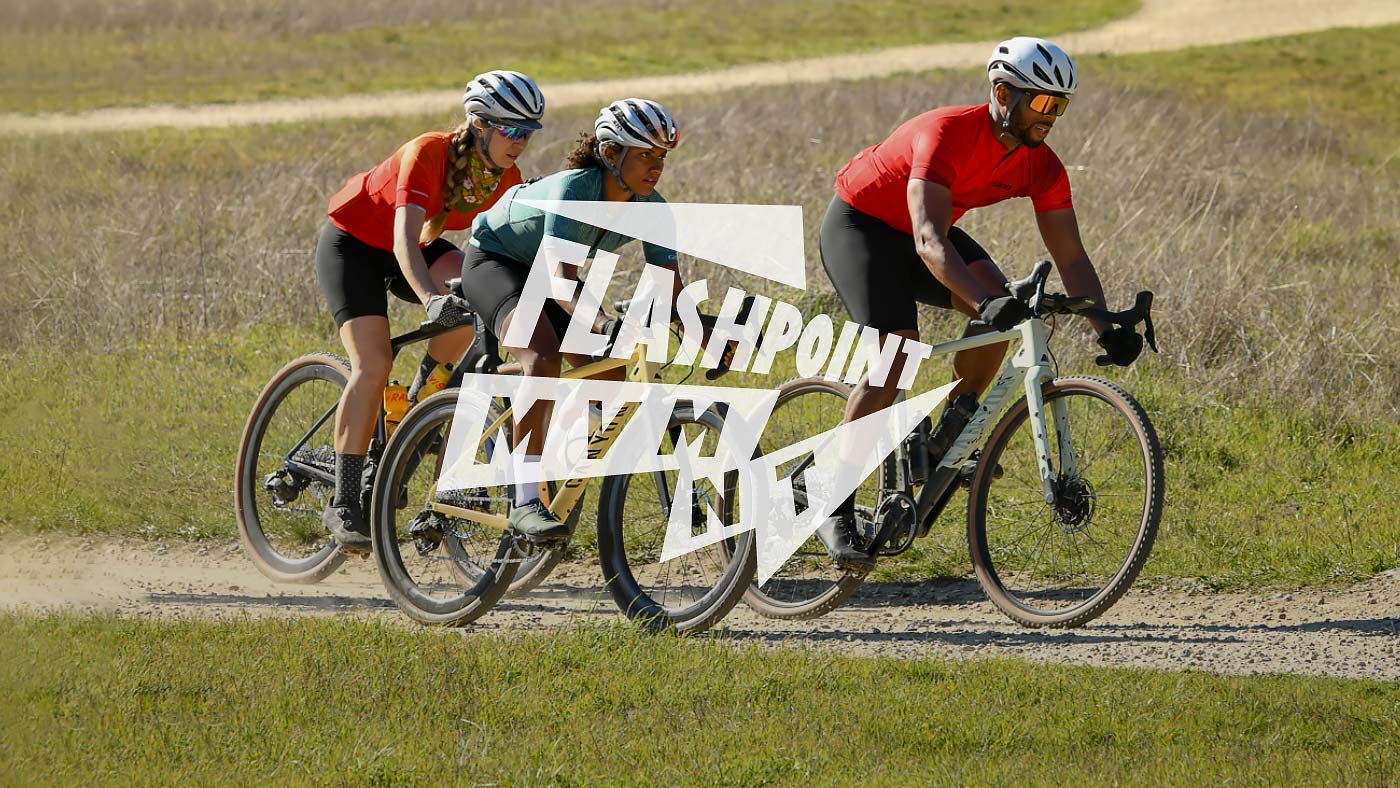 FLASHPOINT MVMNT
Breaking down barriers to change the image of cycling
We're stepping up to create the changes that we want to see in cycling. After two years of turmoil, bikes have never been more popular as a means of exploration, exercise and adventure. But this boom illustrates the divide between the bike industry and the folks actually buying the equipment. Why should newcomers be influenced by traditional reference points? How does old-fashioned racing culture relate to the simple joys of turning pedals, bombing down hills and exploring new places on two wheels?

These three riders, from different backgrounds, are united in a common goal to introduce new audiences to cycling. Flashpoint MVMNT is determined to break down the barriers that can discourage people from riding bikes. These three riders are committed to proving that riders don't need a specific look or uniform to feel comfortable cycling. Riders should not be defined by skin color, gender, body type, cultural background, household income or their equipment preferences. Even the terms "road cyclist", "gravel rider", and "mountain biker" are outdated names that all-to-often constrain riders to artificial categories.

Flashpoint MVMNT isn't a traditional race team. The riders don't wear uniforms, they set their own schedules, and pursue their own goals. They may aspire to win races throughout the season, but they understand that victory is fleeting and are working toward a larger goal of making a lasting impact and changing the face of cycling.

Founded by Giro Sport Design, with support from Canyon Bicycles, SRAM/Zipp/RockShox, Wahoo, Thule and WTB.

Riders: Rachel Parker, Nehemiah Brown and Amanda Schaper. Follow Flashpoint MVMNT on Instagram
Rachel Parker
AN APPETITE TO WIN WHILE DISMANTLING OPPRESSION
First introduced to bike racing through criteriums, Rachel loves the explosive power and strategy the sport showcases. She finds an intuitive flow in the sport, but also sees a dissonance in the demographics. In gravel racing, she's learning to enjoy the challenge of endurance, learning patience and improving her bike handling skills. Rachel believes strongly in the power of diaphragmatic breathing, positive affirmations, and most importantly, teamwork.
"I WANT TO DISMANTLE THE OPPRESSION IN BIKE RACING, FROM IMPROVING THE ACCESSIBILITY OF DEVELOPING RIDERS, TO STRIVING FOR PARITY IN PAY AND MEDIA IN THE WOMEN'S PRO PELOTON." -Rachel
Amanda Schaper
Welcoming Everybody to the Bike Community
Amanda Schaper lives in Santa Cruz, California, and feels most at home on the trails and dirt roads amongst the redwoods. She started riding and racing nearly 15 years ago, always mixing it up between mountain bike, cyclocross, and gravel events. Bikes quickly changed Amanda's life, even leading to a new career. Since 2010, she has managed the marketing efforts for some of the bike industry's most reputable brands, and now has her own independent consulting business. Amanda has consistently used her position in the bike industry to create new opportunities for women and promote gender inclusivity.
"I want to make the
cycling community a fun
and welcoming space
for everybody."
-Amanda
Nehemiah Brown
Achieving More Diversity in Cycling
Nehemiah Brown leads a busy life in San Rafael, California, balancing his day job at a technology start-up with dawn patrol rides and weekend road trips. He loves all types of riding, as long as it includes a healthy dose of dirt and adventure. At the center of everything Nehemiah does, is his commitment to promoting racial equity. He is constantly working towards achieving more diversity in cycling by advising brands on how to be more inclusive, and how to break down barriers by creating experiences so members of underprivileged communities can enjoy cycling. 
"I want to uplift
marginalized communities,
and that starts by making
sure they can join the fun."
-nehemiah