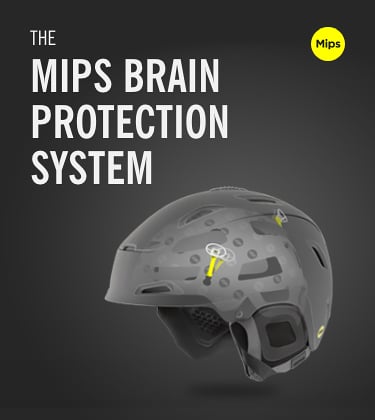 News /

The Mips Brain Protection System
WHAT IS MIPS?
Your brain is everything you are, and it is very sensitive. That's why it is so important to protect it. Giro helmets with the Mips Brain Protection System offer more comprehensive protection that can help to reduce the energy transmitted to your brain in the event of an impact. Less energy transferred to your brain during a crash equals more protection for you.
MIPS IS AN ADDITIONAL
MEASURE OF PROTECTION
Mips is a patented Brain Protection System (BPS) available in almost every Giro helmet model. It adds a measure of protective capability in certain impacts beyond the helmet's outer shell and impact-absorbing foam liner and helps to reduce rotational motion transferred to the brain—especially during those first critical milliseconds. That's why we encourage you to look for the yellow dot on Giro helmets.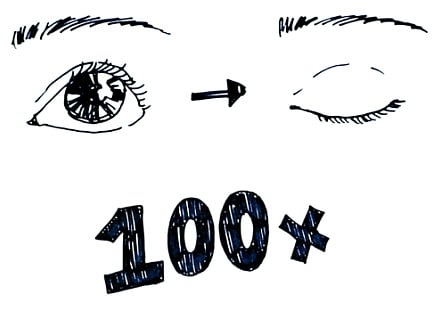 TWO MILLISECONDS COULD CHANGE
YOUR LIFE
Two milliseconds. That's 100 times faster than the blink of an eye! And yet during an impact, this fraction of a second could be the most important moment of your life, because that is all the time it takes to suffer a brain injury.
HOW DOES THE MIPS BRAIN PROTECTION SYSTEM WORK?
When a helmet with the Mips Brain Protection System is subjected to an angled impact, the low friction layer inside the helmet (identified in this image in yellow) allows the helmet to move. That movement during those crucial first .0002 seconds can reduce the amount of rotational motion (a combination of rotational energy and rotational forces) transferred to the brain and reduce the risk for minor and severe brain injuries. It's important to acknowledge that no helmet, including Mips-equipped helmets, can prevent all potential injuries. But by reducing energy transmitted to the brain, the potential for and the severity of a brain injury can be reduced and you likely won't even notice Mips, but your brain will when it needs it the most.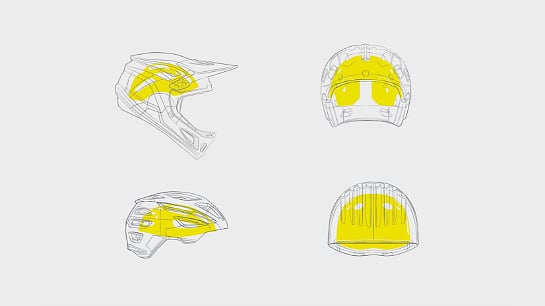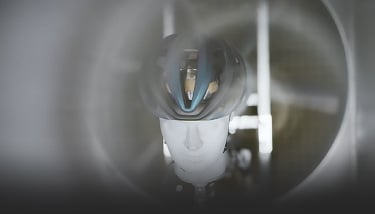 HOW DO WE TEST HELMETS WITH MIPS
TECHNOLOGY?
The Mips BPS has been scientifically proven to reduce rotational motion from angled impacts when implemented in a helmet. And every Mips-equipped helmet model is thoroughly vetted through testing to global standards, as well as Mips's own standards to ensure it performs properly.
More than 25,000 tests to-date.
Top ratings in independent testing from third party laboratories.
Every helmet model validated prior to production approval, with mandatory reduction of rotational forces of at least 10%, compared to comparable helmets without Mips technology.
Developed in consultation with doctors, scientists, biomechanics engineers, and riders.


But we don't take those results or the technology for granted. That's why we continue testing helmets in our DOME Test Lab as well as in partnership with Mips, in order to optimize the performance and integration of the Mips Brain Protection System to our standard.
In addition to the battery of tests mandated for compliance to leading global standards, we built three separate test rigs specifically to evaluate the performance of helmets when subjected to rotational motion. Based on the results of our own testing as well as the evidence from Mips and independent labs, we believe that Giro helmets equipped with the Mips Brain Protection System may provide an additional measure of protection in certain impacts, without adverse effects to other performance benefits. That's why we choose to incorporate the Mips Brain Protection System into nearly every helmet model we make, so that you can get the Giro helmet you want for road, trail, gravel, urban or downhill riding.
MIPS IS THE MARKET-LEADING TECHNOLOGY
Mips are pioneers when it comes to brain protection, and they are a key partner in our effort to improve helmets. With data from more than 25,000 tests to-date, plus top ratings from independent test labs and ongoing research, we believe that the Mips Brain Protection System is the leading brain protection technology. It also allows us to create a wide range of helmets for different styles of riding, without compromising comfort, ventilation or other performance criteria. That's why we believe Giro helmets equipped with Mips are a step forward in head protection, and helmets with Spherical Technology, powered by Mips, are the best helmets you can get.
"…all the tech we need to increase safety without any of the drawbacks."

"the protective qualities you need… to help reduce the rotational effects of side impacts…"

"probably the most important thing to look for when starting your helmet search…"


"…a beautiful, elegant and stealthy solution to
fighting oblique impacts."

"Mips is a fantastic testimony of technological innovation that makes a difference in everyday life through improved safety…"


GIRO OFFERS MIPS FROM TOP TO BOTTOM
MARKET-LEADING PERFORMANCE AND PROTECTION FOR EVERY RIDER
SPHERICAL TECHNOLOGY
Ball-and-socket design, powered by Mips, combines market-leading design, performance and protection

Giro integrated mips
An integrated measure of protection with enhances comfort and performance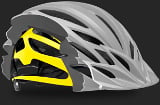 mips equipped
An added measure of protection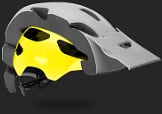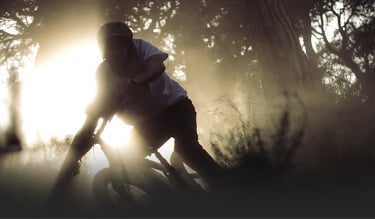 DISCLAIMERS
Mips AB and Mips China (collectively, "Mips") cannot and do not warrant that an individual who suffers a collision, fall, or other blow to the head while a person is wearing a helmet equipped with the Mips system will never suffer any concussion or other injury. No impact protection system can protect a user from all injuries and user assumes all risks, including all risks of bodily injury or death or loss of or damage to property, arising out of user's participation in athletic, recreational and other activities while wearing a helmet equipped with the Mips system. To the extent permitted by applicable law, Mips expressly disclaims all warranties of any kind, express or implied, other than those expressly made by Mips. Warning: the Mips system in a helmet has been positioned in accordance with specifications for that particular model of helmet. Users are warned not to remove, reposition or otherwise tamper with the Mips system in the helmet. Wipe clean using a mild detergent without bleach.